Winter Weddings
Ideas. Perks. And why we think an ice-kissed ceremony is magical.
"I hate winter."
During the colder months in Québec, many feel as if it's their personal duty to express their opinion on the matter. So much so that it's practically cliché. Granted, scraping ice off our car before going to work in the morning isn't our favourite activity. However, our team/family has always shared the feeling that winter has a certain magic to it, and as much as we like sitting on the beach sipping a piña colada in summer, few things are as close to our heart as sledding, skiing, or jumping into a pile of freshly fallen snow.
Waking up to a snowfall, we often find ourselves glued to the glass of the living room window staring in amazement at the sheer beauty of the scene before our eyes. The way each unique flake floats down from the sky like a tiny white gift from heaven. The way they dance together in a flurry as cool gust of wind whisks them off the top of a fresh snow bank. The way they pile up on tree branches and cover the landscape like a giant white duvet. Magic.
As you can imagine, our affinity for the white season coupled with our fondness of weddings means that hosting a winter ceremony in our venue hits a soft spot in our heart.
So, to help disperse the myth and show our future couples just how amazing a winter wedding can be, we decided to dedicate a page on our site to winter weddings. Our first wedding here was a winter wedding, and not to brag, but our venue and property make a serious case for planning your big day in our winter wonderland.
We love winter weddings. Read on to see why.
Winter Special
Just to show how much we think you'll love a winter wedding, we'll set up a hot chocolate bar, on the house, for your wedding if you book a date between November 1 and March 30. Ready to book your big day in our winter wonderland?
Perks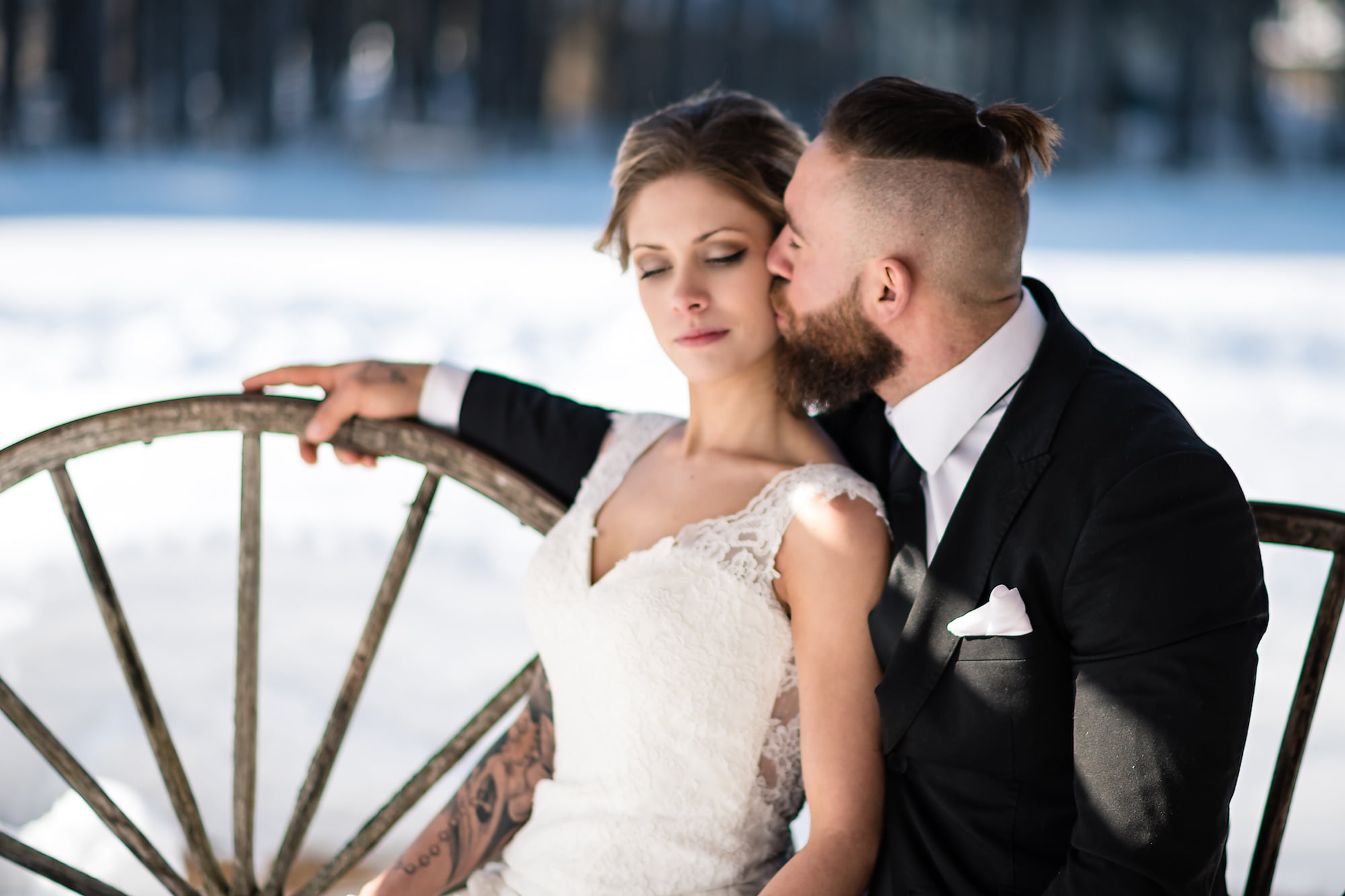 1

It's heated

A lot of venues shut down for the winter either because it costs too much to heat or because they're not set up for it. Not us. Staying true to our rustic feel, we have a good old fashioned wood furnace to make sure you don't have to dance all night to keep warm. But make no mistake, you should still dance all night.
2

It's gorgeous

If you haven't seen some of the pictures of our venue or the field behind our venue in wintertime, don't set your heart on a summer wedding just yet. Our property has the potential for some absolutely stunning pictures.
3

It's unique

Summer is the de facto wedding season of choice for many, but that doesn't mean you have to follow the crowd. In fact, having your wedding in winter means that your pictures, decor and the whole style of the wedding won't be a carbon copy of every other wedding your friends attended last summer.
5

It's economical

Prices for flights and accommodations plummet in wintertime, so you'll save yourself some money and some stress for the honeymoon. Fewer people travel in the winter. Therefore it would also be easier to find availabilities in your hotel of choice.
6

It's not sweaty

People often complain about the cold, but with a winter wedding, you can always find fashionable ways to layer up and keep yourself warm when you're outside. But if your summer wedding day is a real scorcher, there are only so many layers you can take off to avoid being a sweaty mess. And humidity isn't the greatest for your hair and makeup. If you love the heat, go for it, but there can be definite points for comfort at a winter wedding in a heated venue such as ours.
Ideas
Sometimes people lack inspiration for what a winter wedding could actually be, but there are actually a ton of great wedding ideas a couple can use for their wedding. Here are a few we thought were particularly great.
Hot Drinks
A great way to warm up cold hands is by having a hot chocolate in them. We've had couples do things like a hot chocolate bar complete with marshmallows. And you can even add a shot of Irish Cream to top off your glass.
If you're looking for a really cool idea, look into inviting a mobile coffee brewer. There are companies that specialize in making great coffee on-site at public events such as weddings. They'll bring their coffee beans and top of the line espresso machines to make some really stellar specialty coffees on-site. If you're interested, let us know and we'd be happy to recommend one for you.
Cuddle Pictures
Another way to keep warm is to cuddle up. If you're getting married, you already have the person, all you need is a blanket, a couple pairs of mittens that fit with the theme of your wedding, and your photographer will be set to take some of the cutest wedding pictures you could think of. And our "Kissing Booth" behind the barn is the perfect place for it.
Frosty Favours
Another great way to keep your wedding unique is with winter favours. How about little mittens for your guests? Or little jars of hot chocolate with marshmallows. Snowflake candles. Knit slippers...
Check out our "Ice-Kissed Ideas" Pinboard on Pinterest for some great winter Wedding ideas we like.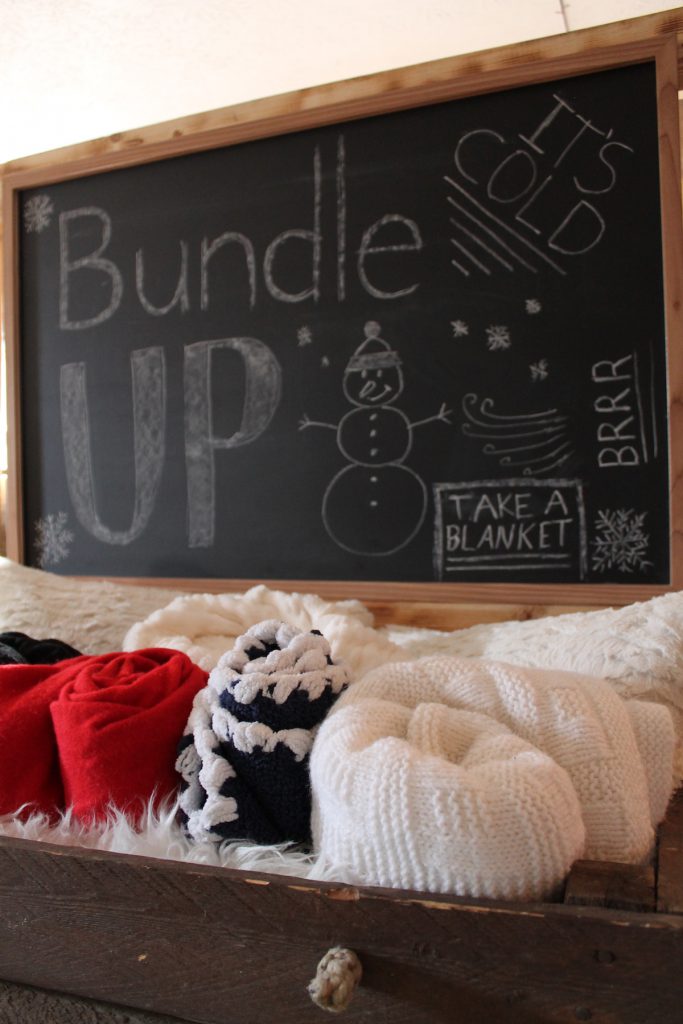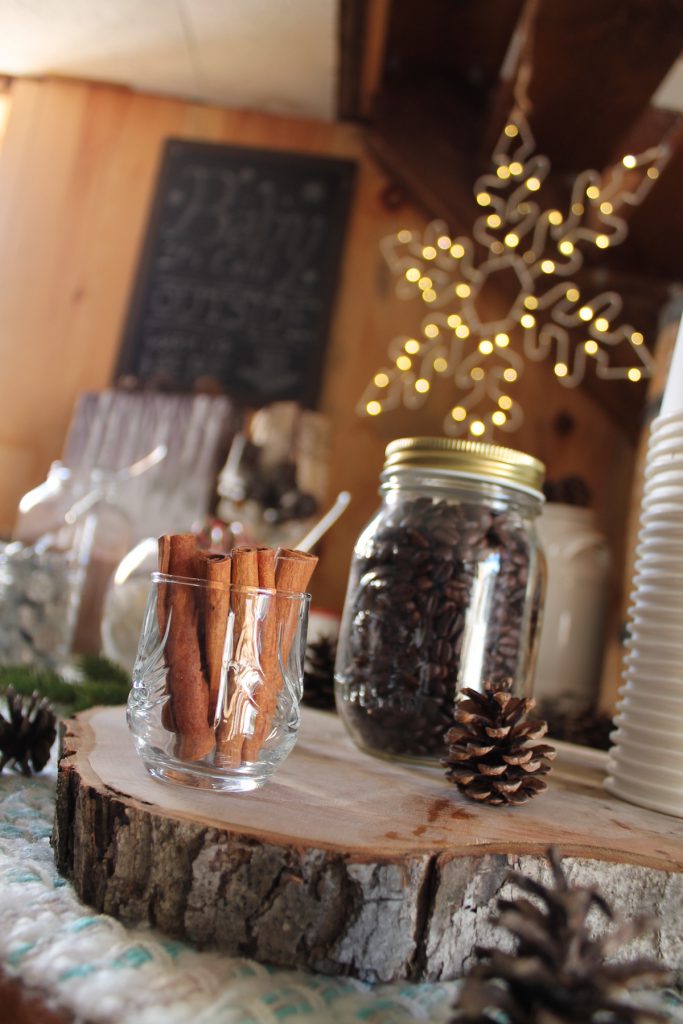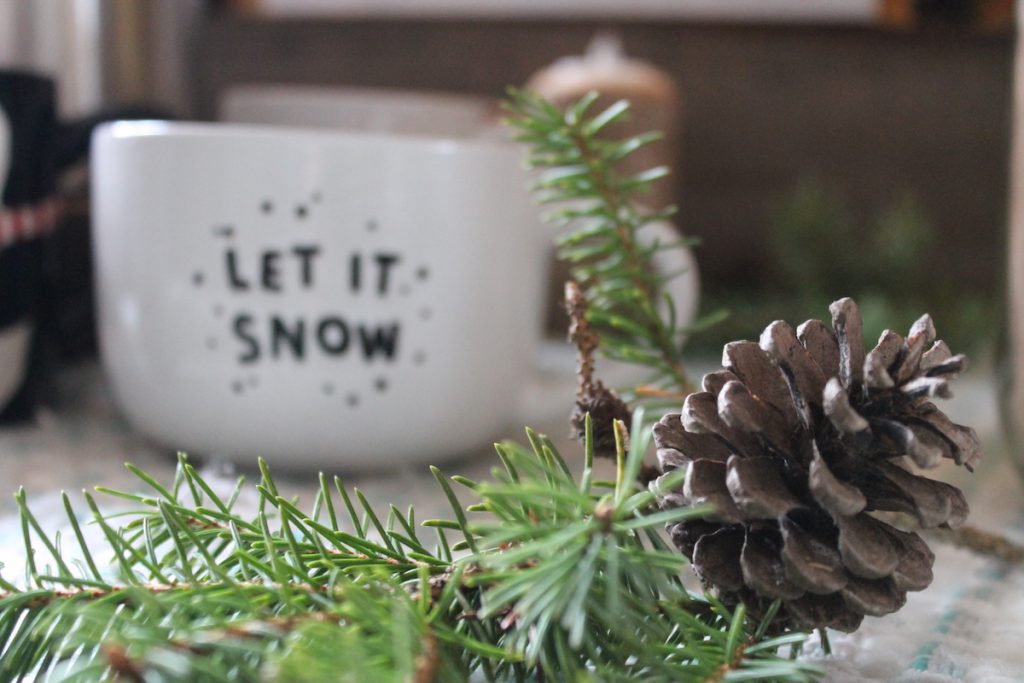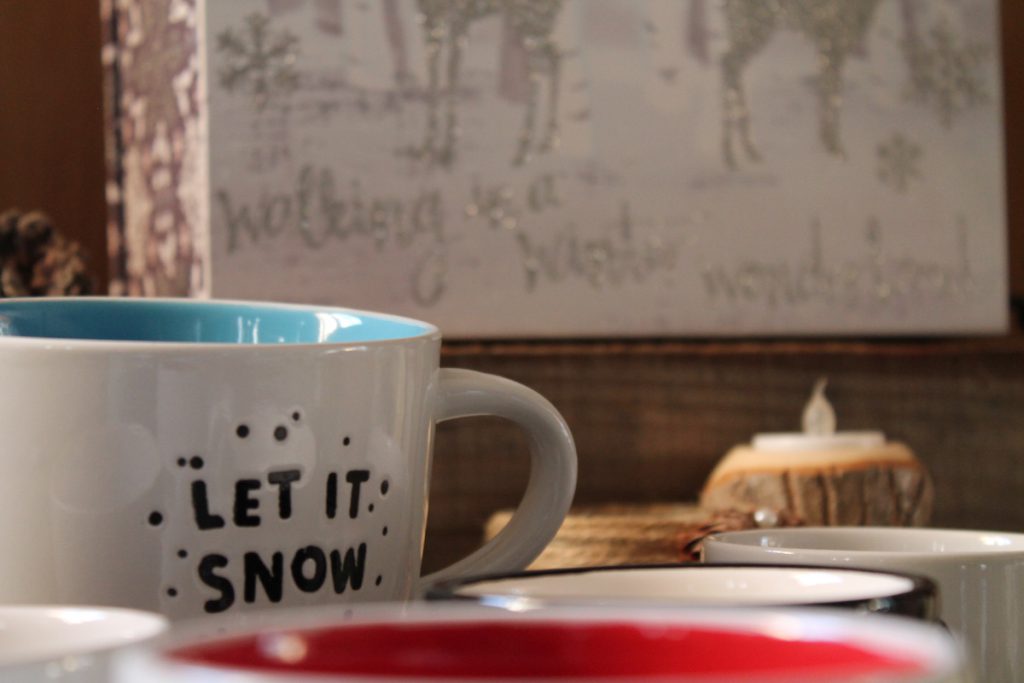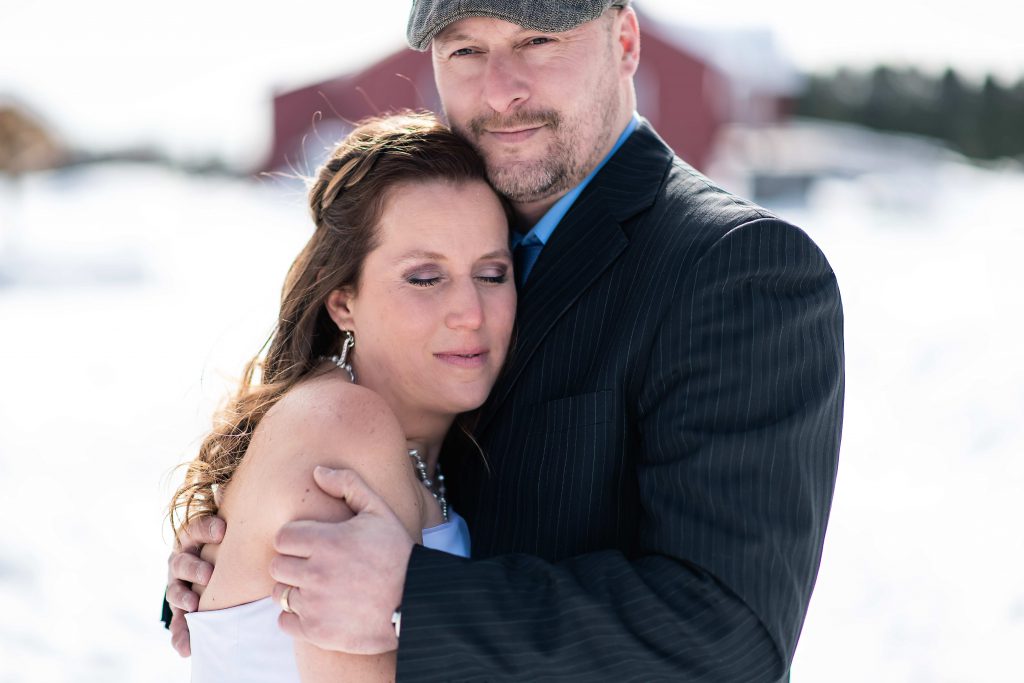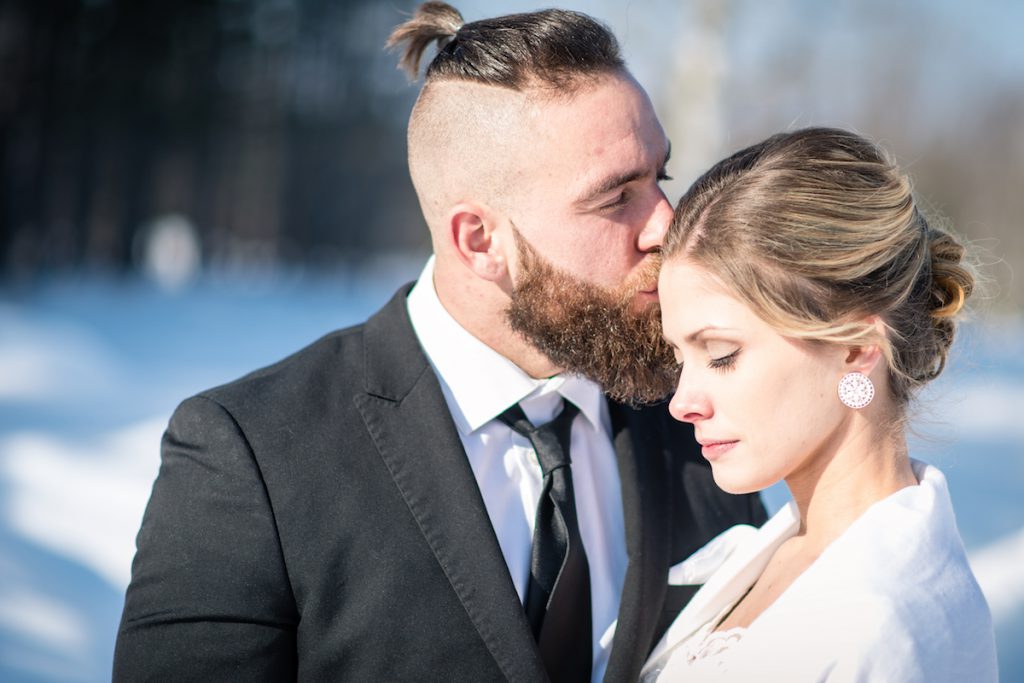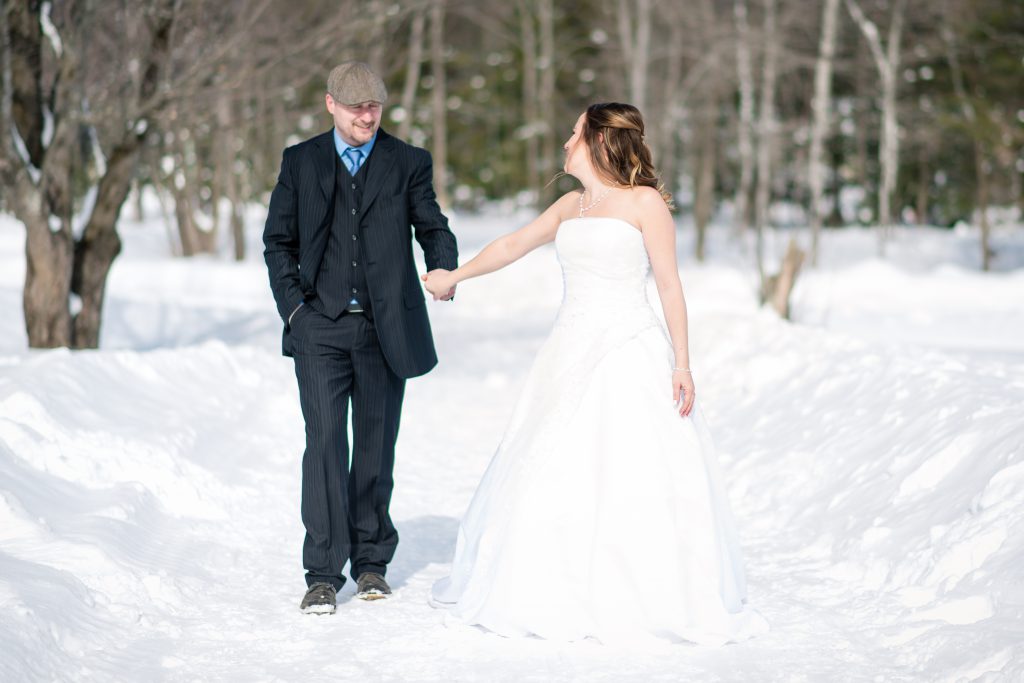 Winter Special
Just to show how much we think you'll love a winter wedding, we're offering to set up a hot chocolate bar, on the house, for your wedding if you book a date between November 1 and March 30. Ready to book your big day in our winter wonderland?
Book Now